2011 International Ranavirus Symposium
<![if !vml]>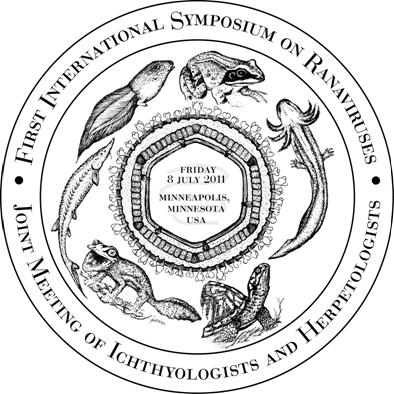 <![endif]>
Minneapolis, Minnesota, USA
Overview
The scientific community is increasingly aware that emerging infectious diseases pose a significant threat to global biodiversity.  A group of viruses in the genus Ranavirus (Family Iridoviridae) cause disease in amphibians, reptiles and fish, and appear to be emerging in some populations.  Ranavirus-associated die-offs in larval and adult amphibians have been documented in the Americas, Europe, and Asia, with death rates often exceeding 90% during an outbreak.  Ranavirus infections also have been reported in wild and cultured fish populations worldwide.  While research on reptiles has been slower to accumulate, recent evidence suggests that ranaviruses are capable of causing morbidity and mortality in free-ranging populations. 
Together, these widespread die-offs have sparked a diversity of research programs addressing the ecology and evolution of ranavirus-host interactions, potential reservoirs and transmission dynamics, molecular techniques for identifying and characterizing ranaviruses, immunological and histopathological responses to infection, hypothesized causes for emergence, and potential conservation strategies to control emergence. 
In an attempt to bring scientists together from across the globe to learn and share information about ranaviruses, the organizers began planning in 2009 for the First International Symposium on Ranaviruses.  In total, 23 scientists from 9 countries are participating with expertise in herpetology, ichthyology, ecology, veterinary medicine, immunology, genetics and molecular biology.  We thank these individuals for participating.  We also thank our 12 sponsors that provided >$22,000 to help offset travel costs for our presenters. 
Below are resources that were generated from the symposium.  We thank everyone who contributed!
Programs
Short Program: http://fwf.ag.utk.edu/mgray/ranavirus/RanavirusProgramFinalDraft.pdf
Expanded Program: http://fwf.ag.utk.edu/mgray/ranavirus/RanavirusProgram_LongVersion_FinalDraft.pdf
Research Directions
<![if !supportLists]>· <![endif]>Future Research Directions identified by Speakers related to their talks.
<![if !supportLists]>· <![endif]>Urgent Research Directions identified during Roundtable Discussions
Pathology, Immunology, and Genetics
<![if !supportLists]>· <![endif]>Ranavirus Persistence: Occurrence and mechanisms of ranavirus persistence in the host (i.e., covert infections) need to be identified.
<![if !supportLists]>· <![endif]>Immune Responses: Better characterization of immune responses against ranaviruses is needed among different host species and amphibian developmental stages.
<![if !supportLists]>· <![endif]>Tissues Targeted: More information is needed on what tissues are targeted initially and over time, and if these patterns differ among amphibian species.
<![if !supportLists]>· <![endif]>Reservoirs: Virus reservoirs need to be identified.
<![if !supportLists]>· <![endif]>Historical Occurrence: Archival specimens may be useful at examining the historical occurrence of ranaviruses and approximate times of introduction/emergence.
<![if !supportLists]>· <![endif]>Captive Facilities, Pathogen Pollution, and Virulence: Role of bullfrogs and ranaculture facilities in the introduction of ranaviruses into naïve amphibian populations needs to be determined. There is some evidence that highly virulent strains may be associated with bullfrog farms and fish bait stores.
<![if !supportLists]>· <![endif]>Vaccine Development: For captive populations and repatriation projects, there is a need to develop a vaccine for treatment of individuals.
Ecology and Conservation
<![if !supportLists]>· <![endif]>Global Ranavirus Mapping Project: Jesse Brunner asked to contact him or Amanda Duffus if you are interested in helping with launching a future website that will be used for reporting occurrences of ranavirus infection and die-offs. Once launched, it will be a great resource for sharing surveillance data.
<![if !supportLists]>· <![endif]>Diagnostic Testing: There is a need to test the sensitivity and specificity of diagnostic tests and to test the reliability of tissue (tail, toe, organ type) versus swab samples. The group should consider aggressively seeking funds for a well-designed study, particularly considering OIE's listing of ranaviral disease.
<![if !supportLists]>· <![endif]>Model Species: Jesse Brunner proposed that we consider establishing one or more model species for ranavirus experiments so that results from different experiments are more comparable. Two species were suggested: wood frogs (Lithobates sylvaticus; highly susceptible species) and American bullfrog (Lithobates catesbeianus; low susceptible species).
<![if !supportLists]>· <![endif]>Sequencing: The group agreed there is a strong need to sequence the entire genome of a variety of isolates and identify regions that are important for differentiating strains and species of ranavirus. Identifying portions of the genome that consistently contribute to virulence also could lead to developing markers for identifying highly pathogenic strains.
Presentation Slides
Moderator: Jason Hoverman
8:15: Ranaviruses: Past, Present, and Future (keynote address)
            Greg Chinchar (University of Mississippi, USA)
8:45: Are Ranaviruses Capable of Causing Population Extirpations and Contributing to Species Declines?
Matt Gray (University of Tennessee, USA)
9:00: Amphibian Ranavirus Transmission and Persistence
Jesse Brunner (Washington State University, USA)
9:15: Amphibian Susceptibilities to the Emerging Amphibian Pathogen Ranavirus
Jason Hoverman (University of Colorado, USA)
9:30: Ranaviruses and Amphibians: Outside the Box of Host-Parasite Relationships
David Lesbarrères (Laurentian University, Canada):
9:45: Effects of Pesticide Exposure on Susceptibility to Ranavirus in Tiger Salamanders, Ambystoma tigrinum
Jacob Kerby (University of South Dakota, USA)
Moderator: Andrew Storfer
10:15: Evidence for Multiple Recent Host Species Shifts among the Ranaviruses (Family Iridoviridae)
James Jancovich (Cal State San Marcos, USA)
10:30: Host-Pathogen Coevolution: From Genes to Landscapes
Andrew Storfer (Washington State University, USA)
10:45: Weakness of innate immunity also contributes to susceptibility of Xenopus tadpoles to FV3 infection
Jacques Robert (University of Rochester, USA)
11:00: Complex Role of Macrophages in Xenopus Immune Defenses and Persistence of the Ranavirus FV3
Jacques Robert (University of Rochester, USA)
11:15: Comparative Pathology of Ranavirus Infections in Wild Amphibians
            D. Earl Green (U. S. Geological Survey, USA)
11:30: Pathological Changes Observed in European Amphibians with Ranaviral Diseases
Ana Balseiro (SERIDA, Spain)
11:45: Comparative Pathology of Ranaviral Disease among Amphibians, Reptiles, and Fish
            Debra Miller (University of Tennessee, USA)
Moderator: Jesse Brunner
1:30: Amphibian Ranaviruses in Canada – Historical, Current, and Future Research Directions
            Danna Schock (Keyano College, Canada)
1:45: Ranaviruses in European Amphibians
            Amada Duffus (Gordon College, USA)
2:00: Current Understanding of Ranaviruses in South America
            Rolando Mazzoni (Universidade Federal de Goiás, Brazil)
2:15: Emergence of Ranaviruses in Japan
            Yumi Une (Azabu University, Japan)
2:30: Ranaviruses in Frogs and Fish in Southeast Asia
            Somkiat Kanchanakhan (Aquatic Animal Health Research Institute, Thailand)
2:45: Isolation of Frog Virus 3 from Pallid Sturgeon Suggests an Interclass Host Shift
            Tom Waltzek (University of Florida, USA)
Moderator: Debra Miller
3:15: Ranaviruses in European Reptiles
            Rachel Marschang (Hohenheim University, Germany)
3:30: Ranaviral Disease in Chelonians of North America
Matt Allender (University of Illinois, USA)
3:45: Challenge Studies of Australian Native Reptiles with a Ranavirus Isolated from a Native Amphibian
Ellen Ariel (James Cook University, Australia): (Matt Allender presenting)
4:00: Assessing the Risk of Introducing Exotic Ranaviruses into Europe via Imports of Infected Ornamental Fish from Asia
Britt Bang Jensen (Norwegian Vet Institute, Norway)
4:15: Amphibian Commerce and the Threat of Pathogen Pollution
Angela Picco (U.S. Fish and Wildlife Service, USA)
Presentation Videos and Photos
Symposium Video (new!)
Instructions:   (1) Download iTunes (if needed),
                                    (2) Link to iTunes U site for the symposium,
                                    (3) Click on any of the blue "View In iTunes" links,
                                    (4) View by clicking on the desired "Video Number" on the left of list,
                                    (5) Videos also can be downloaded by clicking on "Free".
Gold Level of Support ($5,000)
<![if !supportLists]>· <![endif]>University of Tennessee Institute of Agriculture
Silver Level of Support ($2,500)
<![if !supportLists]>· <![endif]>Association of Reptilian and Amphibian Veterinarians
<![if !supportLists]>· <![endif]>Australian Commonwealth Scientific and Industrial Research Organisation  
<![if !supportLists]>· <![endif]>Environment Canada, National Wildlife Research Centre
<![if !supportLists]>· <![endif]>Morris Animal Foundation
<![if !supportLists]>· <![endif]>Tennessee Wildlife Resources Agency
<![if !supportLists]>· <![endif]>U.S. Forest Service, Pacific Northwest Research Station
Bronze Level of Support (<$2,500)
<![if !supportLists]>· <![endif]>American Society of Ichthyologists and Herpetologists
<![if !supportLists]>· <![endif]>Missouri Department of Conservation
<![if !supportLists]>· <![endif]>Partners in Amphibian and Reptile Conservation
<![if !supportLists]>· <![endif]>Tennessee Herpetological Society
<![if !supportLists]>· <![endif]>USGS Amphibian Research and Monitoring Initiative
UT Department of Forestry, Wildlife and Fisheries
<![if !vml]>

<![endif]><![if !vml]>

<![endif]>
---